NYC: Registration is open for Feeding the Sacred Spark, a workshop & ritual with Starhawk and BrightFlame, Feb 24th.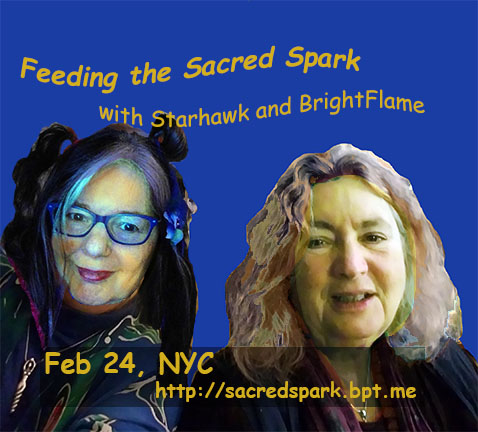 Other classes and offerings coming soon . . . see the Classes tab for sneak peaks.

BrightFlame was happy to see so many of you at her 2016 workshops with Starhawk, Making Rituals That Matter and Stories for the Future in NYC and Philadelphia. The workshops sold out in advance. Assure you are on BrightFlame's email list to be the first to know of new offerings!
BrightFlame offered The Gift of Baba Yaga: Facing Power with our Authentic Selves with Ann at Wild Maine Witchcamp, October 2017. Wow! What a powerful and deep, insightful week. Picture the pine forest extending to the rocky coast of Maine. Picture 40+ people gathered to find our role in creating a just, sustainable world. Picture those from diverse paths of activism and spirituality drumming, dancing, healing, making magic.
Her offering of the five-day Pentacle of Story with Cathy at Vermont Witchcamp 2017 was powerful and potent, bringing forward messages from the allies about Right Action for the world now.
The wild, deep, and insightful June 2017 Elements of Magic, Reimagined class brought together those experienced and new to witchcraft to ask the elements (Earth, Air, Fire, Water, Spirit) for actionable guidance during these troubling times. Wow! We created a powerful ritual to change the world and to affirm the gifts we bring for the future of our planet. See the Classes tab for details.
BrightFlame will teach at two Reclaiming witchcamps this year. See her Schedule for details.